Alabama Graphite Corporation (CSPG.V or CSPGF:  OTC) is an industrial materials company with a vertically integrated business model to mine, process and market high value-added graphite for fast-growing target markets.  The Company has developed a proprietary process to upgrade and purify graphite materials that command superior selling prices in the defense and battery markets.
Recent laboratory tests of AGC's CPSG material indicate that purity of sufficient levels for use in lithium ion batteries can be achieved.  The material was produced with graphite from the Company's Coosa Project and processed using the Company's proprietary low-temperature purification process.  The tests conducted in early 2017, achieved a purity level of 99.99997% carbon by weight.
The Company has accumulated a portfolio of advantageously located natural flake graphite resources in the Southeastern United States.  Its initial project in Coosa County, Alabama was previously exploited, providing reliable historical information on the graphite reserves.  Recent testing of samples from new pits and trenches in the Coosa County Project suggests 79.4 million metric tons of inferred graphite resource.
Prospective customers have begun sampling what the Company calls 'Coated Spherical Purified Graphite' or CSPG.  Particular interest is apparently coming from manufacturers of lithium-ion batteries.  While the Company has not disclosed names, several have been revealed as U.S. Department of Defense (DOD) contractors.
We believe investors may be overlooking the merits of AGC's strategic position.  In our view, the stock is undervalued and does not fully reflect the team's progress in bringing a USA-sourced graphite material to market.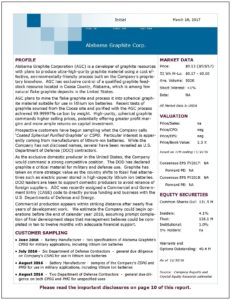 Click image to view full ten-page report.